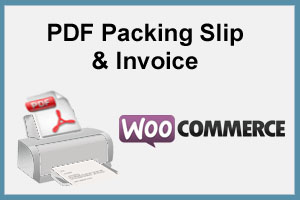 We've just released a PDF Invoices and Packing Slip Extension for WooCommerce. This has to be one of the most requested extensions we've had in a while. Shop owners often worry about the look of their store and online presence, but forget that the impressions they convey to their customer's carry on even after the order is placed. Our WooCommerce PDF Invoices extension lets you convey a professional appearance to your customers even after the order has been placed.
The plugin lets you quickly and easily create and print professional looking packing slips and invoices for your customers. You can either choose to print a single invoice or packing slip for an individual order, or you can bulk print packing slips, invoices or both for any order status. The bulk print functionality has been one of the most oft requested features and rightly so as it can dramatically cut-down on your total time to process an order.
As always, the extension follows wordpress coding standards, takes advantage of WooCommerce's built-in hooks and comes with our proven support. The extension can be localized using the sod_wc_pdf_invoices domain, and the pdf generation also includes Chinese character compatibility. If you're looking for a great way to give your shop a professional feel and vibe even after the purchase, the WooCommerce PDF Invoice and Packing Slip Extension is the way to go.